Kamelot da a conocer el arte de lo que será su próximo álbum Poetry For The Poisoned, a editarse el 10 de septiembre en Europa y el 14 del mismo mes en Estados Unidos. El CD fue producido por Sascha Paeth y Miro; cuenta con invitados especiales como Gus G. (Firewind, Ozzy Osbourne), la cantante de Epica, Simone Simons, el ex-Savatage Jon Oliva, y Björn "Speed" Strid de Soilwork.
El material estará disponible en tres presentaciones: La estandar, en digipack con DVD extra, y como vinil. El DVD contiene el video del sencillo The Great Pandemonium, entrevistas con los integrantes de la banda, "Pick And Play" para el track The Great Pandemonium, imagenes de fondo de Poetry For The Poisoned, video exclusivo del festival Norway Rock de 2010, y el tema extra, House On A Hill.
El guitarrista Thomas Youngblood comenta:
"Creo que este álbum es por mucho el más diverso, fusionando nuevas ideas y elementos a lo largo del sonido tradicional y estilo de Kamelot que hemos establecido al paso de los años.
'Poetry For The Poisoned' es una mezcla de elementos progresivos, rock moderno, artes oscuras y también power metal."

El vocalista Roy Khan añade:
"'Poetry For The Poisoned' va a satisfacer a los fans que siguen a la banda y va a exponer el universo de Kamelot a un nuevo rango de fans. 'Poetry For The Poisoned' es nuestra producción más larga y dura hasta ahora, cuando escucho el resultado se que valió el esfuerzo."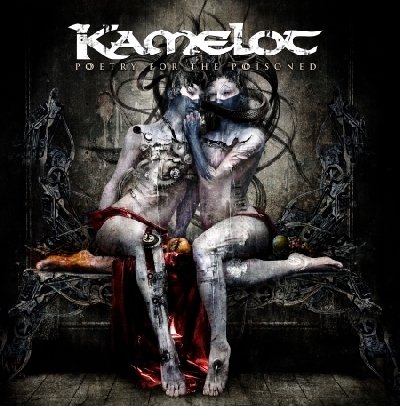 Poetry For The Poisoned Tracklist
01. The Great Pandemonium
02. If Tomorrow Came
03. Dear Editor
04. The Zodiac
05. Hunter's Season
06. House On A Hill
07. Necropolis
08. My Train Of Thoughts
09. Seal Of Woven Years
Poetry For The Poisoned

10. Pt. I – Incubus
11. Pt. II – So Long
12. Pt. III – All Is Over
13. Pt. IV – Dissection
14. Once Upon A Time
Kamelot se presentará en América Latina a partir del 7 de abril en Chile, hasta el 15 culminando en Chihuahua, México.