Por Alfredo J. Huerta (Metal Gods MX)
Epica
Requiem For The Indifferent

Nuclear Blast Records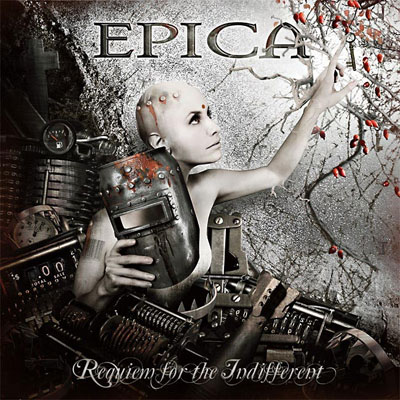 Epica regresó este 2012 con su quinto álbum de estudio producido por Sascha Paeth, el cual presenta cosas muy buenas.
Para muchos su disco anterior Design Your Universe, es el mejor que han grabado, por lo que este nuevo material era esperado con ansias por todos sus seguidores.
Requiem For The Indifferent arranca con Karma, una intro orquestal que nos prepara para el que puede ser el mejor tema del disco, Monopoly On Truth con buenos riffs, una batería rápida y el juego de voces característico entre Simone Simons y Mark Jansen. Storm The Sorrow es un track que ya se conocía, el cual no es malo, pero sin duda no es el referente del material.
Delirium es una muy buena balada en donde Simone se luce y que gracias al solo de Isaac Delahaye la canción se recordara durante un buen tiempo. Internal Warfare es una de las composiciones más fuertes, con buen ritmo y un toque progresivo. Requiem For The Indifferent es de lo mejor de este trabajo, cuenta con los clásicos coros, partes guturales y riffs que tendrás en la cabeza durante mucho tiempo. De lo más sobresaliente del álbum.
Anima sirve como una introducción instrumental para Guilty Demeanor, tema de corta duración en donde se ve el sello característico de la banda. Deep Water Horizon va de menos a más, comienza lenta y puedo decir que hasta un poco aburrida, pero gracias al ingenio de Mark esta se va levantando considerablemente y muestra la madurez de Epica.
Stay The Course junto a Deter The Tyrant, mantienen la línea del grupo: buenos coros combinados con la voz de Simone y una base rítmica y sólida. Ambas son buenas pero les falta poder para convertirse en clásicos.
Avalanche es un tema difícil el cual debes escuchar varias veces para poder digerirlo ya que los cambios de ritmo están muy marcados. Al comienzo puede parecer una balada pero poco a poco va creciendo de forma dinámica gracias a la gran cantidad de detalles instrumentales que tiene. Serenade Of Self-Destruction es la canción más larga, la cual es completamente instrumental y perfecta para cerrar el LP.
Sin duda Requiem For The Indifferent es un buen álbum, pero no el mejor de la banda. Simone no se arriesga vocalmente y deja mucho que desear en varios tracks. Esperemos que Epica no caiga en la monotonía y se aventure un poco más en sus siguientes discos.