enero 10, 2011
Battle Beast se une al repertorio que en este 2011 celebrará el monstruoso festival germano, Wacken.
Estas son las agrupaciones confirmadas por el momento.
Accuser
Apocalyptica
As I Lay Dying
Avantasia
Battle Beast
Blass Of Glory
Blind Guardian
Blowsight
Children Of Bodom
Cradle Of Filth
Devildriver
Excrementory Grindfuckers
Exodus
Hayseed Dixie
Heaven Shall Burn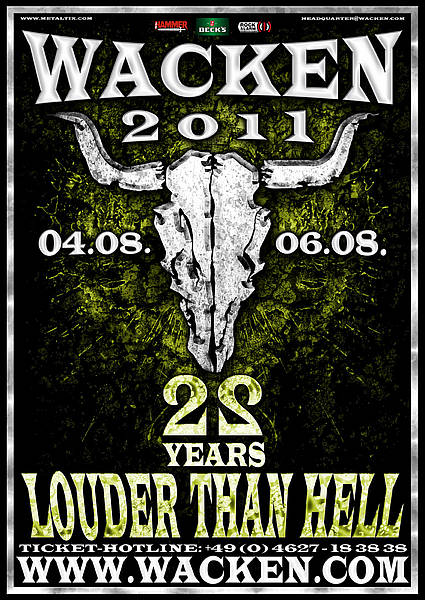 Hellsaw
Iced Earth
In Solitude
Judas Priest
Khold
Knorkator
Kreator
Mayhem
Morbid Angel
Morgoth
Motörhead
Ozzy Osbourne
Primal Fear
Rhapsody Of Fire
Russkaja
Sepultura
Sirenia
Skálmöld
Ski King
Smack Ballz
Sodom
Stier
Subway To Sally
Suicidal Tendencies
Tauthr
The Haunted
The Prophecy
Tokyo Blade
Trivium
Tsjuder
Visions Of Atlantis
Volcano
Vreid
Warrant
Tags: 2011, Alemania, Apocalytica, Avantasia, Battle Beast, Blind Guardian, Children Of Bodom, Devildriver, Exodus, Festival, Judas Priest, Mayhem, Motorhead, Ozzy Osbourne, Search And Destroy, Sergio Alvite, Wacken, Wacken 2011
BOOKMARK
.